Canine spectator falls for Tour de France rider
Cyclists spend months training for the gruelling mountain climbs and tortuous distances of the Tour de France.
They prepare for days of extreme endurance and soaring temperatures - aware that the slightest nudge by a competitor could send them crashing out of the race.
The labrador bounds across the road oblivious to the oncoming rider


But it is unlikely that the hazards posed by wandering pets figure too highly in the course safety manual.

This will be of little consolation to German cyclist Marcus Burghardt whose race plans lay in tatters yesterday lunchtime, after he collided with a large labrador.

Footage of the dramatic crash shows the dog ambling across the road straight into the path of the Burghardt's speeding carbon fibre bike.

The front wheel buckles on impact, sending the rider tumbling over the handle bars onto the confused animal.


Cyclist Marcus Burghardt cannot swerve out of the way in time

The bike then up-ends before crashing on to the dog's back, while the pink-clad cyclist rolled around on the road.

Remarkably, the dog was unhurt by the battering and clambered to its feet wagging its tail with a rather bemused expression on its face.

It is was then grabbed by a spectator before it could cause any more damage to the cyclists.

Burghardt suffered nothing more damaging than cuts and bruises, and quickly replaced the faulty wheel with another one.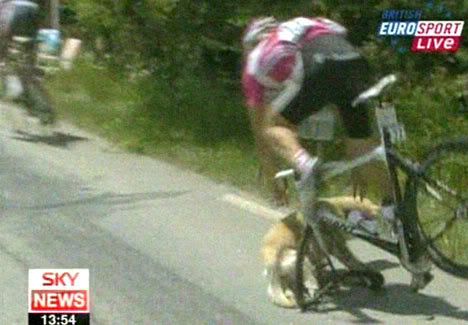 Burghardt takes a tumble as the bike smashes into the dog's side

The 159.5km ninth stage was eventually won by Soler Hernandez.

The section between Val d'Isere and Briancon is considered one of the most gruelling parts of in the 3,550km race.

The cyclists climbed to the highest point of this year's race, the Col de l'Iseran at 2,770m, in temperatures over 30C with the road surface melting in places.

Burghardt's bicycle is made from expensive components from all over the world.

It is described as 'light, rigid and aerodynamic' by his race team T-Mobile - but proved to be little match for the bulky dog.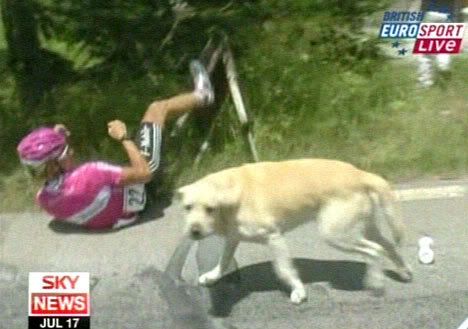 The labrador looks fine after impact, if slightly bewildered, while Burghardt rolls into the grass verge